Adventure Awaits
Open Roads Fest is all about getting outside and exploring together.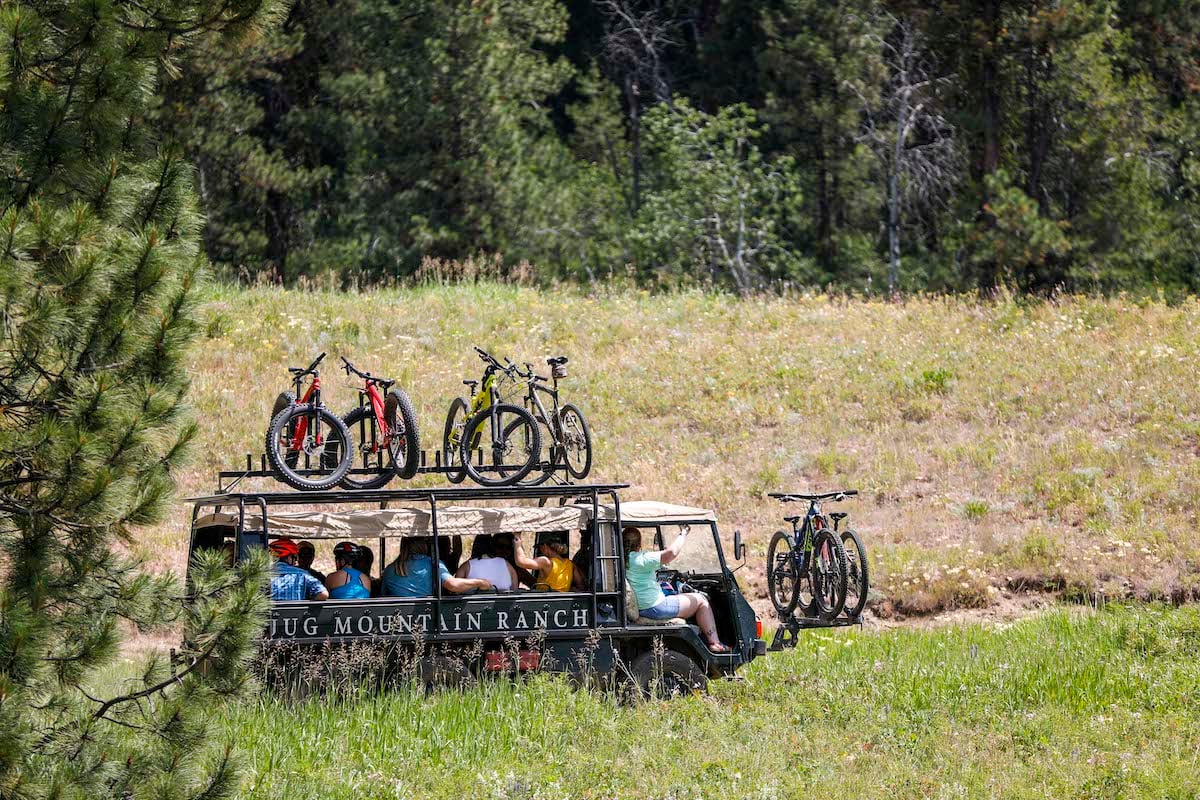 Explore the Trails
Our weekend basecamp at Jug Mountain Ranch will be your all-access pass to a variety of outdoor activities.
 Jug Mountain Ranch is home to some of Idaho's premier single track, winding through the meadows and Ponderosa forest at the base of Jughandle Mountain. The terrain offers something for everyone whether you're a beginner out to enjoy the rolling, buffed out singletrack to an expert looking for technical features or fast flowy descents. Jug Mountain Ranch will be providing free mountain bike shuttle rides thanks to Storyteller Overland to transport you and your bike to the top of the trail system. The trails are also great for hiking and trail running. Make sure to stop by the Open Roads Adventure Hub to pick up a free trail map. Water Activities
Get ready for the beach party!
Hop on the free shuttle for a quick ride up to Jug Mountain's private lake where you can swim, float, or take a paddle board for a spin with free inflatable paddle-board demos that are available to all festival goers! This year at the lake, singer-songer writer Josh Daniel and DJ Aaron Schuckman will also be performing live musical sets in the afternoon.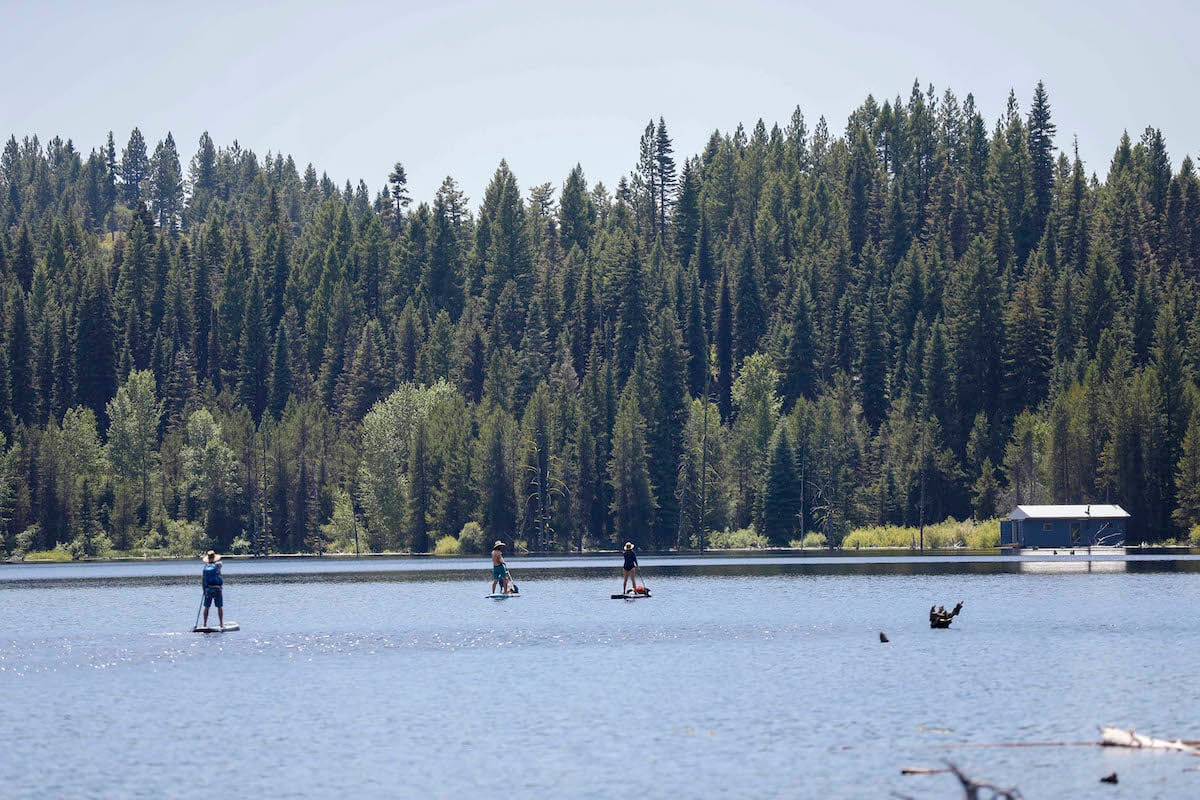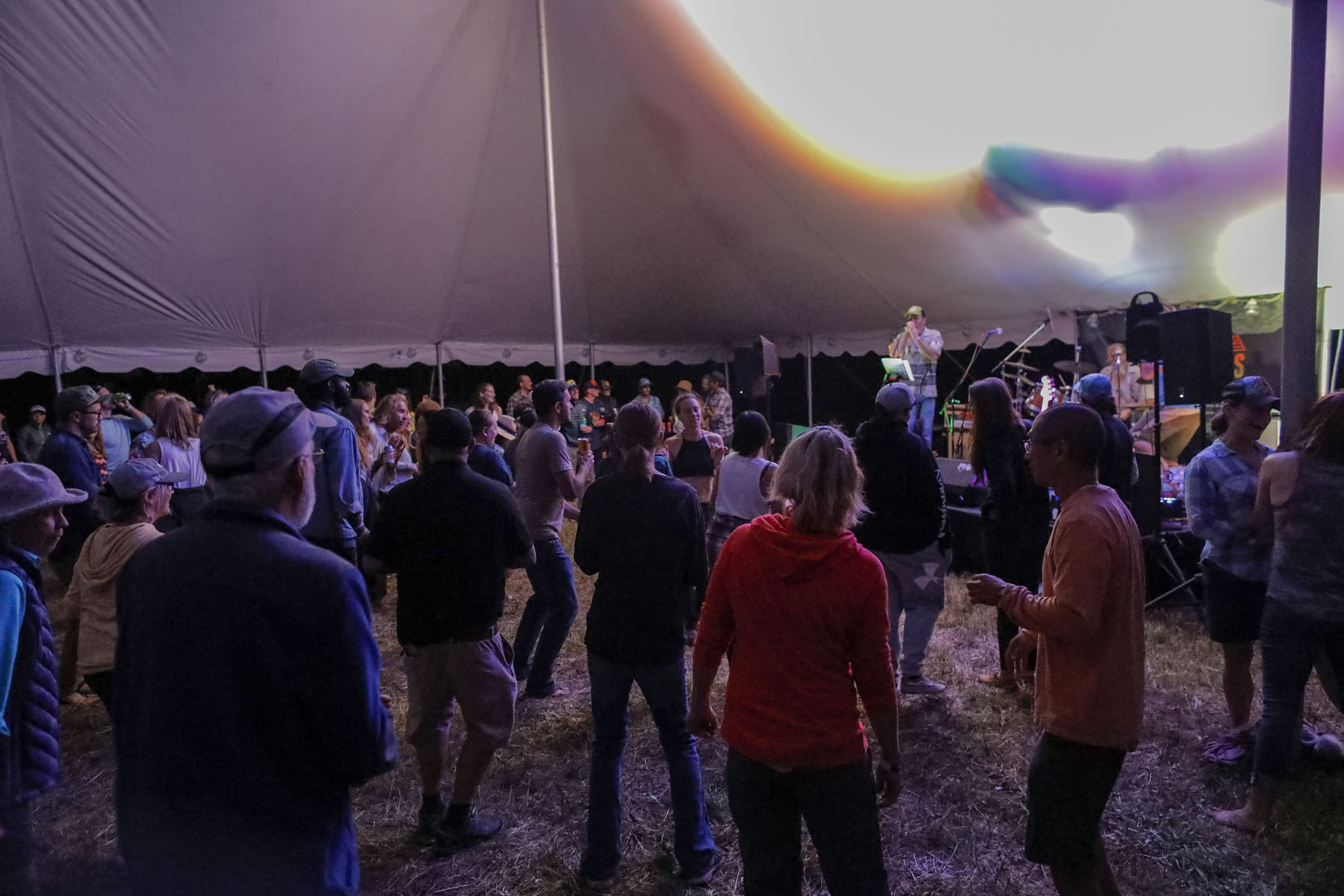 Live Music
Plan on groovin' till the summer sun goes down with this year's live music lineup. 
Friday we have Josh Daniel, a North Carolina singer-songwriter and multi-instrumentalist who blends rock n roll with bluegrass, funk and soul music with a reggae backbeat. On Saturday, The Pour will get us dancing with their unique recipe of rock, funk, and soul with influences ranging from Jimi Hendrix to Pink Floyd and Miles Davis to Radiohead. On Sunday, female singer-songwriter Leah Woods will take the stage blending roots of indie, R&B, folk, and Neo-soul into a mixture of raw expressive emotion. Wellness Sessions
Join our daily wellness sessions to bring the mind and body into balance.
Noami Grevemberg of Diversify Vanlife will open the event with a yoga and meditation session to help us wind down from the long drive. Coach Chris of Muscles on the Move will lead us through a 30-minute beginner-friendly stretching session that van lifers can easily incorporate into their daily routine. We'll also be joined by Brittany Lillegard who will take us through an energizing and playful yoga class that will leave you feeling grounded and ready to indulge in the rest of the day's activities. Another morning, Jennifer Gralia will lead us through a yoga, mindfulness, and self-care practice. Finally, certified Master Breathwork Facilitator Victoria Starr will lead us in her 75-minute transformational breathwork session where you'll tap into the power of your breath and go inward to experience a deeper, more authentic connection with yourself and those around you.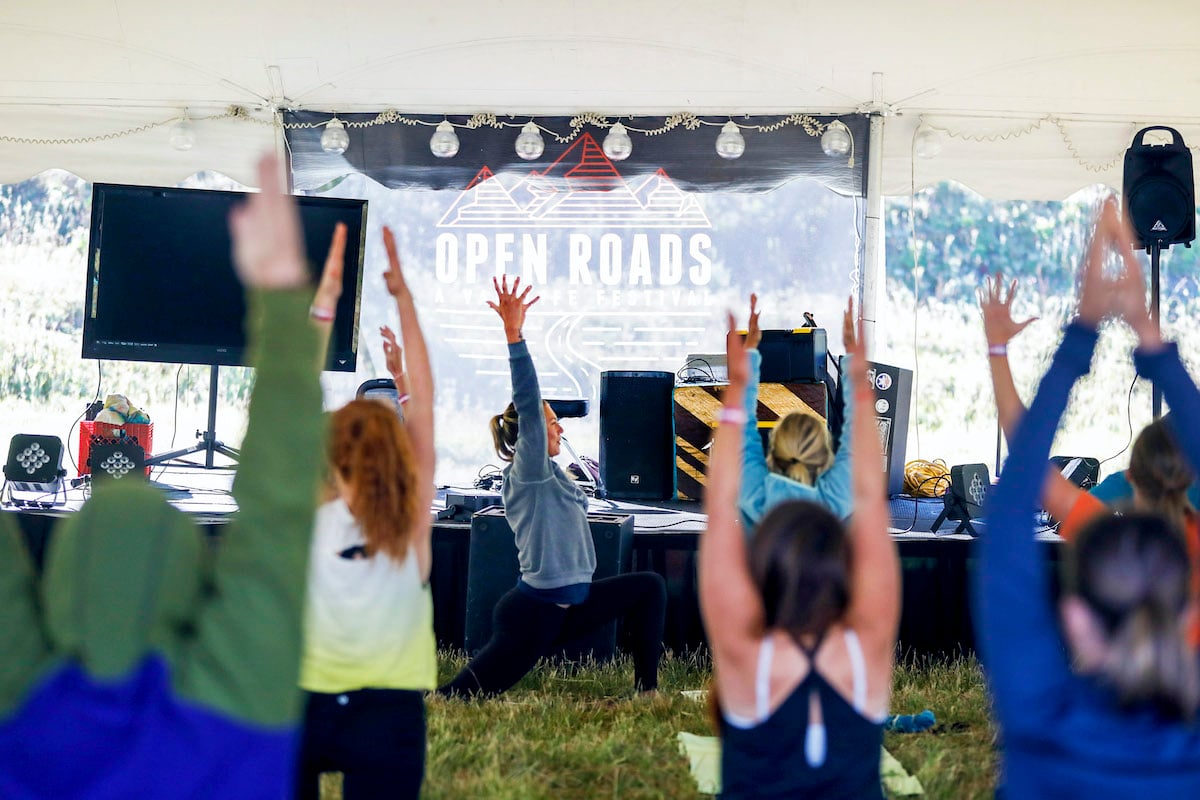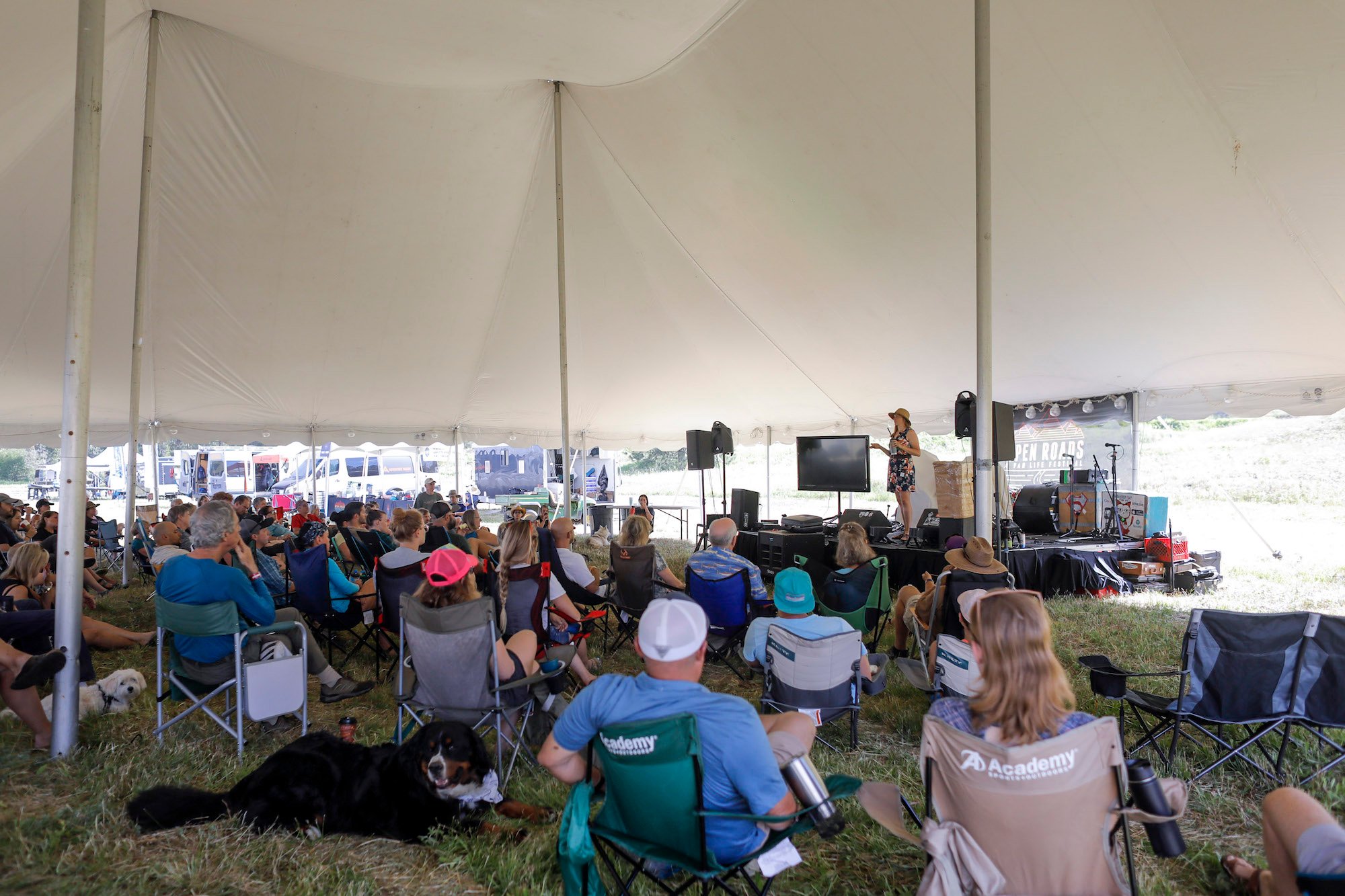 Workshops
Open Roads features a stacked workshop lineup where experts teach you how to take van life to the next level. This year, we'll have a variety of workshops that appeal to both new and experienced van lifers, so everyone has a chance to build their knowledge base.
Read More Camping
Van Camping at Open Roads takes place in a big 7 acre grassy field surrounded by Jug Mountain Ranch's beautiful forested hills. Our tent camping spots are just along the edge of the campground scattered throughout the trees next to a lovely creek that is great to cool off in at all hours of the day. ⁠We will be offering a separate "quiet camping zone" that will be located in another open field that is a short walk from the main campground and workshop tent.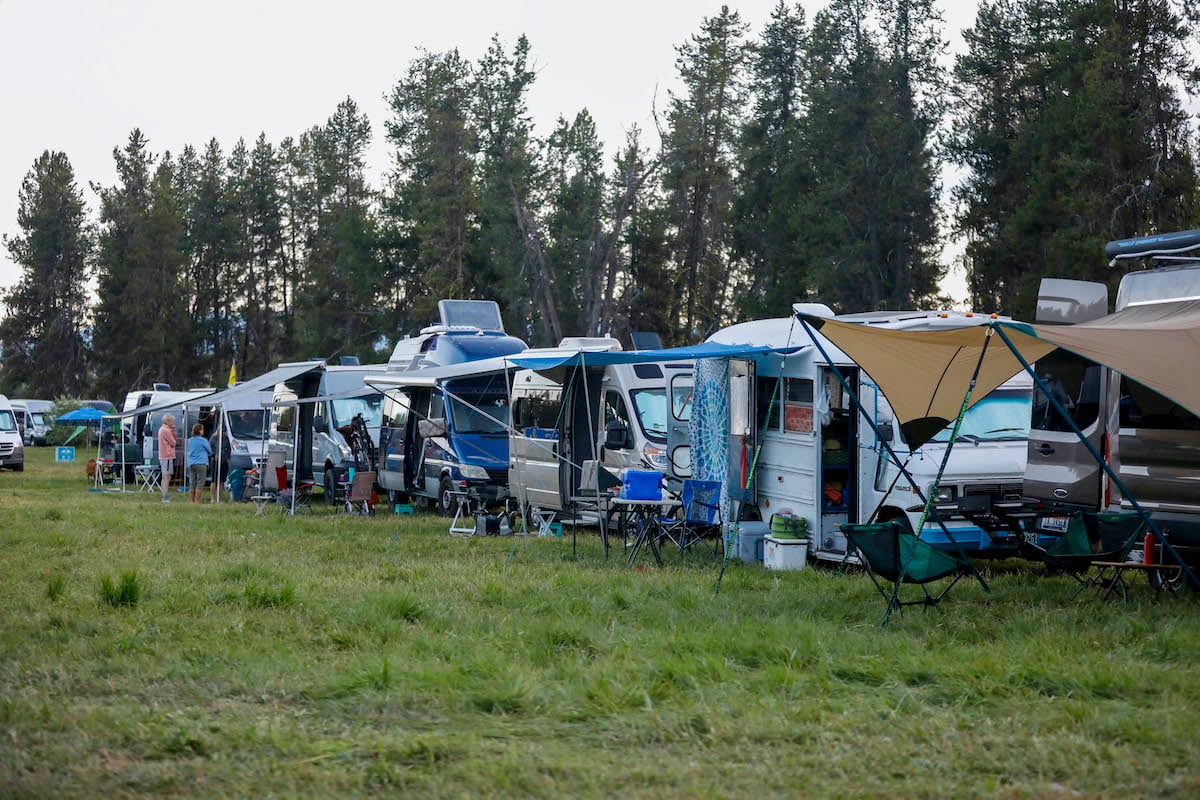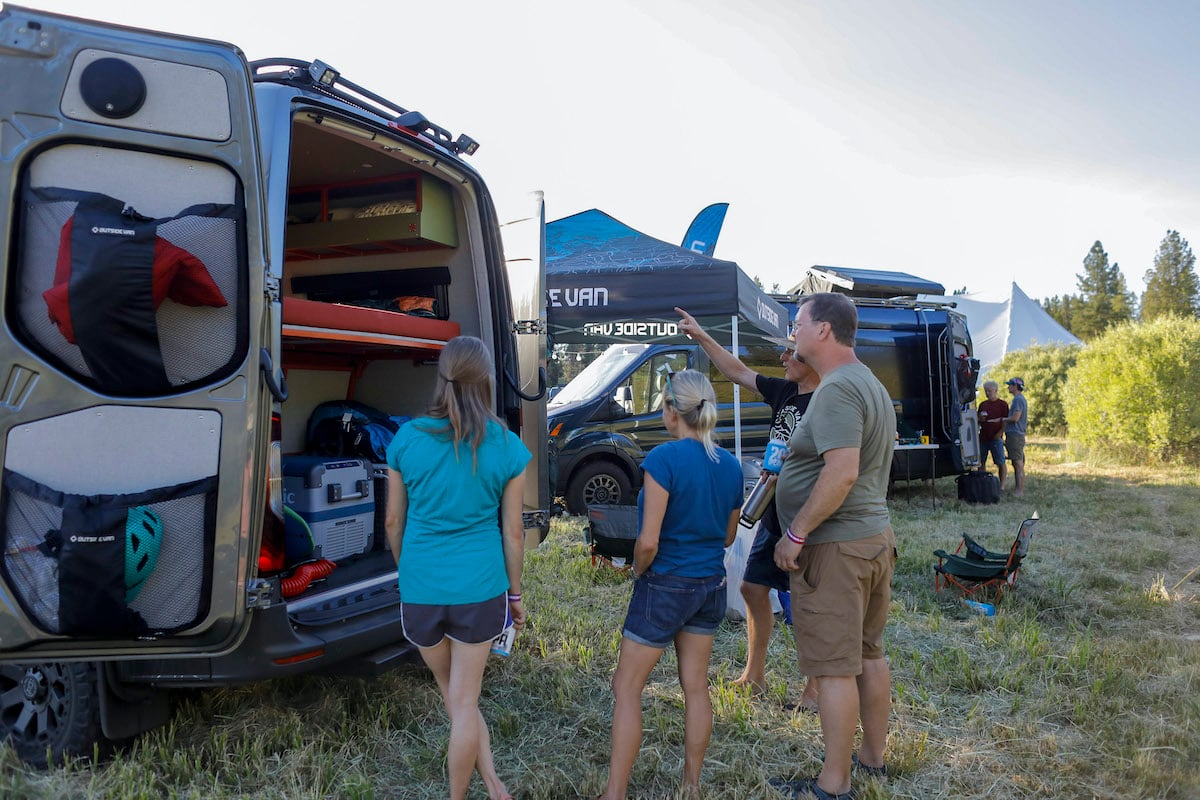 Exhibitors
In addition to all of the outdoor activities, Open Roads Fest offers the opportunity to connect with some of the top van conversion companies, van life brands, and more, who are all there to be a resource for you. You'll get to tour their vehicles, ask all of your questions, and get inspiration for your life on the road. Friday night, all of our sponsors will be holding free happy hours in their booths so you can get to know them. On Saturday night, Outside Van will be hosting a community fire pit, followed by a free burrito breakfast in Storyteller Overland's booth on Sunday morning.
Read More
Explore McCall
Before and after the festival, experience endless outdoor recreation in McCall, Idaho.
HOT SPRINGS
Like the rest of Idaho, McCall is known for its hot springs. After the festival is over, spend a day soaking in a geothermal pool, like Gold Fork Hot Springs or Burgdorf Hot Springs just 30 minutes north of town. It's an experience that you won't want to skip while you're here.
HIKING
Venture out a little farther to explore the McCall's spectacular hiking trails, like the scenic Goose Creek Falls trail and Louie Lake, that offer hikers unbeatable mountain views, waterfalls and a walk through Idaho's pristine forests.
WATER ACTIVITIES
Jug Mountain Ranch has a beautiful creek and a large private reservoir onsite for attendees who want to enjoy a freshwater dip. After the festival, make sure to check out Payette Lake, where you can kayak, fish, boat, and cool off after a day exploring. For more thrills, spend a day whitewater rafting on the rushing Payette River.
MOUNTAIN BIKING
Hop on your bike right from your campsite to ride around Jug Mountain's world-class, singletrack mountain biking trails. The terrain offers something for everyone whether you're a beginner out to enjoy the rolling, buffed out singletrack, to an expert looking for technical features or fast flowy descents. The trail system is immediately accessible from the event, and we highly encourage you to go out and get after it! After the festival is over, you won't want to miss the new 12-mile Payette Rim Loop for gorgeous views of the region.