Workshops
Join a community of like-minded people, get geared-up for your next adventure, and learn how to make the most of your life on the open road. The weekend will feature an action-packed schedule with over a dozen workshops and expert-led talks to teach you everything you want to know about van life — like how to build one out and pro tips for life on the road. No matter where you are in your journey, these fun and informative workshops will help you take your van life to the next level.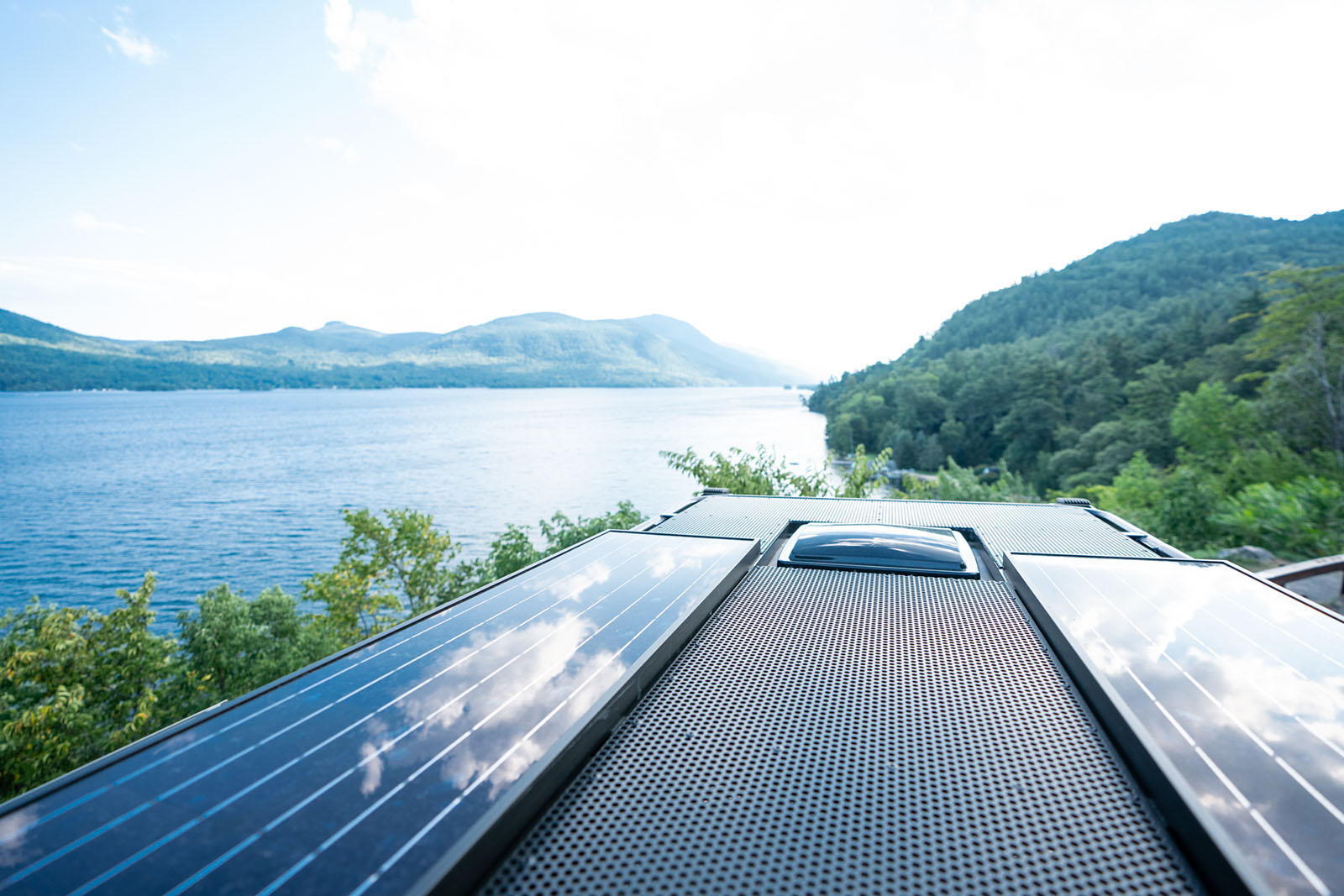 This isn't driver's ed
This is van life 101
Welcome Happy Hour Sponsored by Anheuser Busch
Once you get settled at camp, join us for the Welcome Happy Hour. We'll hop on the mic for a few minutes to share all of the important things you'll need to know for the weekend. We'll also have a variety of complimentary craft brew provided by Anheuser Busch to quench your thirst.
LEARN FROM THE EXPERTS: OUTSIDE VAN Q&A
Come learn from the OG van conversion experts! Portland-based Outside Van has been building badass, adventure-ready vans for over a decade. In this exclusive workshop, Outside Van lead designer Jeff Roberts will giving the answers to your most burning van life questions. He'll cover the pros and cons of different chassis, how to fit all of your gear and amenities into 100 square feet, and the best materials for a van conversion. Whether you've been on the road for years or are researching for your first van, we promise you'll leave this workshop feeling a hell of a lot more knowledgeable.
Coffee with Bearfoot Theory
Bring your coffee mug and questions and join Kristen Bor, the founder of Bearfoot Theory and the Open Roads Festival, for a casual morning Q&A where you can get all of your questions answered. Whether you want to learn about blogging and running a remote online business or the ins and outs of travel and vanlife, Kristen is excited to chat with you about building a sustainable and exciting life on the road.
Zamp Solar: Powering your Off-Grid Adventure Van
Wes Nave has helped pioneer solar technology in the RV and off-road markets at Zamp Solar (the leading producer of US-made mobile solar panels) for over 10 years. Join Wes for this workshop where you'll learn how to size and set up your ideal solar system in your off-grid adventuremobile. He is extremely knowledgable in all things 12-volt solar and is excited to help you Thrive Off-Grid, so you can dream bigger, go further, and stay out longer!
Cooking in a Van with Fresh Off The Grid
Sick of eating the same three meals when you're on the road? Do you feel that eating healthy costs too much or takes too long? Do you find yourself giving in to the siren calls of fast food? Join Megan & Michael, the food bloggers behind Fresh Off The Grid for a talk on the ins-and-outs of cooking on the road. They'll cover everything from equipping your van kitchen, the art of cooking in a small space, favorite pantry staples & spices (and what to cook with them!), and reducing kitchen & food waste on the road.
DIY Van Build: From Dream to Reality
When Vanessa and Adam Hickey, of Create Wondr, set out to build out their first Sprinter Van in 2017, there weren't a lot of resources to help them. So they spent hours, weeks, and months sourcing materials and planning their conversion to make sure they got it right. Now two years later, they are living full-time in their DIY Sprinter, with a new baby on board, and have written a detailed 130 page e-book to teach you how to follow in their footsteps! Their workshop will empower you with the knowledge, advice, and practical skills you need to be successful with your DIY conversion.
Solo Female Van Life: Staying Safe, Connected, and Sane on the Road
Solo travel can get tiresome and lonely for anyone on the road. Staying safe, finding community and maintaining positive mental health are complexities of van life that often get overlooked, but their importance is immeasurable. Solo female van lifer Sam Johnson has spent the last year and a half driving more than 20,000 miles through national parks and major cities, camping off-grid on BLM lands. Join Sam for an honest and empowering conversation about doing van life safely and solo.
DOWNSIZING YOUR CLOSET FOR VAN LIFE
Have you ever looked at your closet and wondered how you're ever going to fit all of your stuff into a van? Or is your van closet bursting at the seams? Yeah, us too. This workshop, led by Jessica Shisler of @van.there, will share how to downsize your spare bedroom-sized closet into a mere two cubic feet. Learn insider tips (hi, packing cubes!) for minimizing your wardrobe into only what you need and love. And discover how to prepare for any occasion -- from a national park excursion to the occasional business meeting. As a bonus, participants will receive a copy of the Minimalist Wardrobe Decision Guide.
LEAVE IT BETTER THAN YOU FOUND IT
Come brush up on Leave No Trace and learn how you can have a positive impact on the lands we camp on. Erik Lund, Idaho State Advocate and Master Educator for Leave No Trace, will share tips for being a responsible van lifer. From gray water disposal to pooping in the woods, you'll leave this workshop with a deeper understanding of how to leave places better than you found them. At the end of the workshop, we will be holding a raffle with 100% of the proceeds going to Leave No Trace. So come ready to learn and to WIN!
FINDING COMMUNITY ON THE ROAD
One of the most common sentiments expressed by people with a nomadic lifestyle is loneliness. Even when traveling with a partner, the lack of physical community can have major impacts on happiness. This panel discussion led by Breanne Acio, founder of The Vanlife App, will explore the importance of community, ways to build connections and new friendships on the road, and highlight stories from a diverse panel of van lifers in the community.
BUDGETING FOR VAN LIFE
Van life can be an exciting way to live free and reduce expenses.  But if it's not done correctly, van life can be a stressful and very expensive experiment that could leave you broke. This workshop by personal finance coach Mike McIrvin will help you get your bank account ready for the adventure of a lifetime. Learn how to get into the right money mindset for van life, with tips for debt reduction, saving for your dream van, and budgeting for long-term travel.
Building an Eco-Friendly Van
Vanlife is already an ecological choice, but can the van itself be eco-friendly? Join Christopher Ives, designer and builder of the obsessively-eco Vitruvian Van, for a discussion on ecological van design, sourcing eco-friendly materials, and creating a comfortable, non-toxic home on wheels. Chris holds degrees in Environmental Ethics and Sustainable Development, extensive construction experience, and has been living in tiny spaces for nearly a decade.
Vanlife in Europe
Join Brittany and Drew, known as Mr and Mrs Adventure, to hear stories and mishaps from their 40,000 mile, 2.5 year honeymoon on wheels. Travelling across Europe and North Africa in a converted Ford Transit, they will share tips for buying a van abroad, handling visas, and essential advice for manifesting your international van life dreams.
Van life in Baja
Jacob and Natasha Moon are a full-time adventure couple that recently travelled to Baja in their 2003 DIY converted Sprinter Van. Their informative workshop will give an overview of everything you need to know before heading south of the border. This will include border crossings, favorite campsites and places to visit, safety, travel logistics, things to do, what to bring, and of course, their favorite taco stops.
Intro to Fly Casting with Taylor Outfitting
Been wanting to get your feet wet with fly fishing? The first step is knowing how to cast. Join Robert Monroe, owner of Taylor Outfitting (the #1 fly fishing guide service in McCall) for an evening sessions on Friday or Saturday where you'll learn the basics of fly fishing equipment and casting so you can leave the festival and go land the big one. Space is limited, an sign-ups will take place on a first-come, first-serve basis. More information will be provided at the Welcome Happy Hour on Thursday evening.